Your Storage Destination for All Things Recreation
Tall Pines Storage is the best when it comes to customers who are into outdoor recreation. We have three locations close to Lake Conroe: Montgomery, 105 West, and Little Egypt Road. Whether it's storage for RVs, boats, jet skis, or whatever, Tall Pines Storage locations have the features and amenities that you're looking for.
Our Tall Pines Storage - Montgomery location, right on the shores of Lake Conroe in Montgomery, TX, is second-to-none. We're so much more than just a place to store your toys, we have features you won't find at our competitors. To start, you can relax at our quiet, suburban location, and enjoy a peaceful morning on our fishing pier. When you're ready to hit the water we have a fantastic, private 4 lane boat ramp with nice floating docks, so you can get out on the lake, without the chaos of some other boat launch locations.
After you're done for the day and ready to put that boat or RV away, we have four wash-down stations, and we offer an onsite pump-out / dump station. Wash it, pump it out, park it, plug it in, and you're done, all set for your next adventure.
Like all of our Tall Pines Storage locations, we have a wide range of options for types of storage - indoor, outdoor, covered, wide doors, tall doors, etc. Big or small, we've got the size and type of space that you need. We also offer climate-controlled units at select locations, where you can visit your belongings in air-conditioned comfort.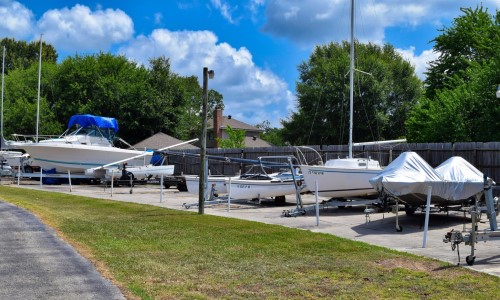 If you want the best for your RV in Conroe, TX, we have two convenient locations. Our Tall Pines Storage - 105 West location, offers Premium RV Suites, characterized by extra-large doors, up to 12 feet wide and 14 feet tall, and super-easy access with 70 foot wide aisles. The Premium RV Suites all have interior lighting and AC power for your convenience. This location also has a brand new, covered wash bay, and offers pull-through units, for the ultimate in easy parking.
You'll find similar features at our Tall Pines Storage - Little Egypt Road location, including indoor and outdoor spaces, an on-site RV dump station, and a wash station with compressed air available.
Our Tall Pines Storage - Lake Conroe area locations are all clean, modern, and a pleasure to spend time in. You won't feel cramped or stressed out when maneuvering your large vehicle, instead, you'll enjoy the convenience of wide aisles and lots of clearance. Our offices are staffed with friendly, helpful people during normal business hours, and we have moving and storage supplies on site, available for purchase.
All of our Tall Pines Storage locations feature the latest and greatest technology that makes your experience more convenient, and ultimately, just plain better than you'll find at the competition. With our Contactless Rentals program, you'll be able to research, rent, pay for, and access your storage unit online, without ever having to speak or see anyone in person.
When you're ready to store with the Lake Conroe recreation specialists, click the Storage Locations link above to find the recreational vehicle storage facility that works best for you.