New Year, New Home, New Life For One Local Texarkana Family
It may be cold outside, but one Texarkana family holds the keys to a new, warm home this winter thanks to Lockaway Storage Community Partner Habitat for Humanity.
Courtney Blair says she didn't feel the bitterly frigid wind against her face on Friday afternoon as the ribbon was cut on her family's new home on 12th Street. In tears, Courtney explained the feeling of home ownership, "I am beyond excited. I just feel so blessed."
Lockaway Storage in Texarkana on South Kings Highway and Lockaway Storage on New Boston Road partnered with Habitat for Humanity nearly three years ago. Providing storage space for donated materials such as doors, windows, and construction supplies has enabled the teams at each location to contribute to providing family housing to low-income residents in Texarkana.
Mary Wormington, Executive Director of Texarkana Habitat For Humanity says you can't put a price on this kindness, "Often times, there will be huge amounts of windows or doors and we don't have a place for them, so the storage company donates the storage space that allows us to keep them. I just had a call this morning from a lady who is redoing a little house and is needing some windows at an affordable price. Next week we will meet with her and take her out to the storage unit, and show her the windows and also some items we have that she can purchase at a reduced cost. Then, we'll take that money and put it back into building the next house."
During its nearly 30-years in Texarkana, Habitat for Humanity has built eleven homes on the Texas side of the city, and renovated ten properties, but the Blair home is the first home built in Texarkana, Arkansas.
"It was just really special. It really brought home how special it was when we saw how grateful the homeowner was," said Ann Westerman, District Manager for Lockaway Storage in Texarkana, TX. "It really showed that the things people do in the community make a difference in people's lives. It was just a real blessing to see the difference that was made and how happy she was."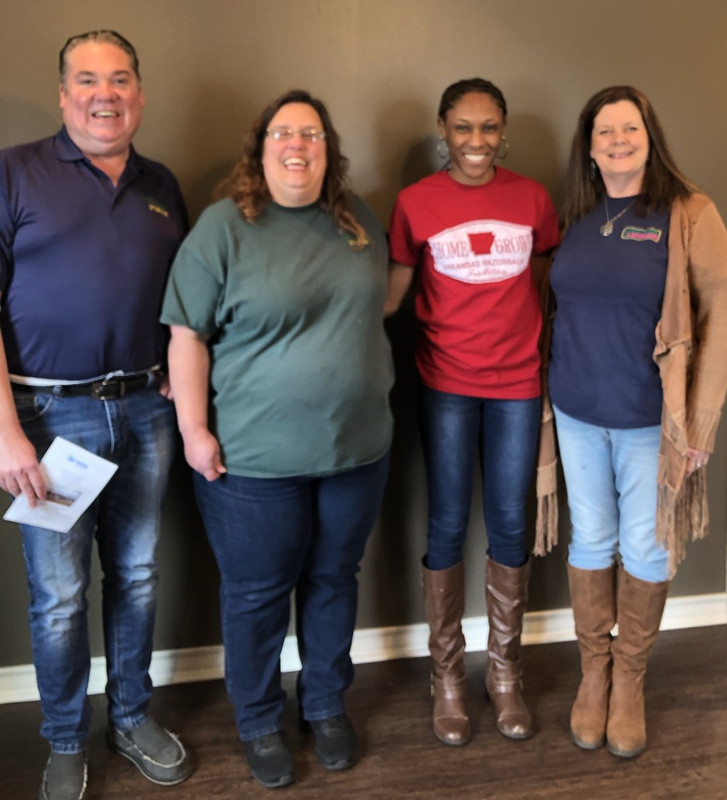 Many people don't realize how the "gift" of a newly constructed house works. Westerman explains Habitat's motto of "A Hand Up Not A Handout" couldn't ring truer, "She has to put sweat equity into the home, which means there are so many hours that they require for her work on the construction of the home. Then she will be paying the note on the home, the owner of the home will actually be making the low-cost payment on the home." Courtney Blair and her family were required to contribute 100 hours of volunteer time in the community before ground was broken for the home. Once construction began, she was on-site, side-by-side with other volunteers putting in at least another 100 hours.
"The program consists of an application process and then they go through a rigorous interview process where they make sure that the person who is applying can afford a mortgage, utilities, gas for their vehicle, and they are able to pay for clothing and food for their children," said Wormington.
In the past, Habitat For Humanity has built, on average, a 900 to 1400 square foot home every twenty-four months. Today, Wormington says they are on track to do a minimum of one every six months! Community donations and personal contributions make this possible, "Y'all play a big part in that," said Wormington.
As word spreads that Habitat For Humanity is in full-on build mode, Lockaway Storage is proud to be able to offer a fourth storage unit for supplies, and Wormington says this contribution saves the organization thousands of dollars each year, contributing to the well-being of the organization. Volunteers along with soon-to-be new homeowners often stop by the facility to pick out specific items needed to complete their various projects. In Blair's case, she searched for hardware for cabinets.
"When you open the door of our storage unit it looks like a mini Home Depot!" said Wormington.
This spring, Habitat For Humanity in Texarkana will present a new home to a US Veteran, and your local Lockaway Storage team will be right there to welcome them home!
For more information or to volunteer your time and resources visit Habitat for Humanity of Texarkana's website.