Here at Lockaway Storage, we know our success is due to our wonderful team. The care they give our renters is unparalleled and we want to highlight their milestones along the way. Below is an interview with Brittany Holder, who is celebrating her 3-year anniversary with Lockaway Storage.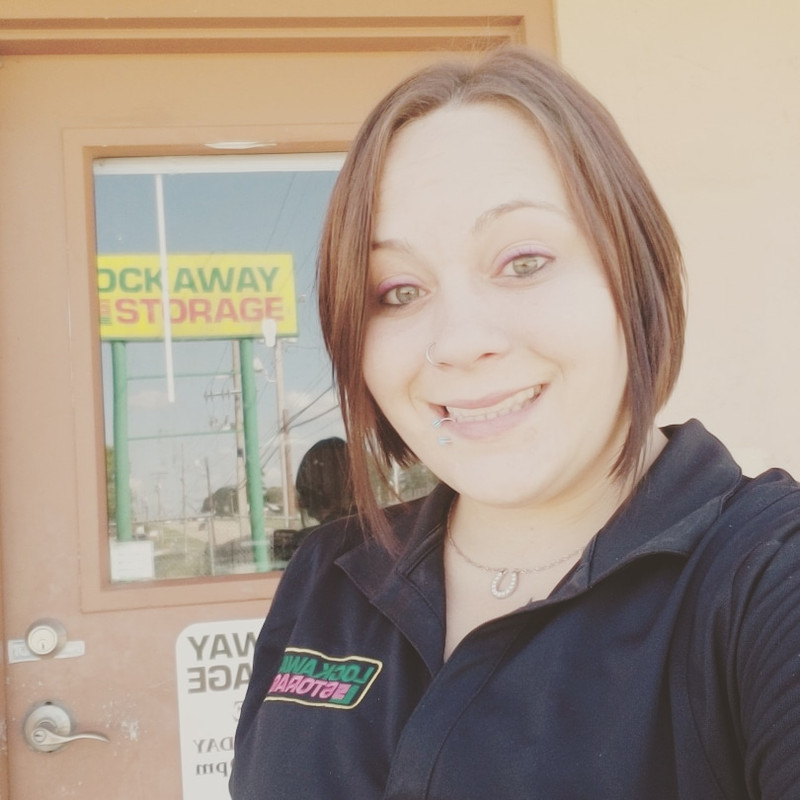 You can meet Brittany and the team at Lockaway Storage on 7th Street in Texarkana, TX.
Afton: What do you like to do outside of work, do you have any hobbies?
Brittany: I really do not have any hobbies, I love to spend all of my extra time with my kids and fiance.
Afton: What is the area around the facility like and do you live there?
Brittany: The area around my facility is really not that much to look at because there is really nothing but businesses. I used to live on-site until a little over a year ago because my family got bigger and we needed a bigger place for our 4 kids and 2 dogs. A small apartment is not big enough for all 6 of us.
Afton: Are there any famous sights or points of interest people should take note of when visiting your facility?
Brittany: Well there really is not any famous sights around here but my facility is on the way to Wright Patman Lake, so we have a lot of people asking about my covered parking.
Afton: What are your favorite restaurants around the facility?
Brittany: The restaurant around my facility that is my favorite is Yoli's Mexican Grill, even though I love their burgers and fries.
---
"Brittany is always willing to help other Team Members, especially with the tech type items. Brittany is friendly and outgoing, and a great part of team Texarkana! She truly runs Wake Village like she owns it!"
Ann Westerman, Lockaway Storage District Manager
---
Afton: If you don't mind, tell us a little bit about your family.
Brittany: A few things about my family, I recently got engaged to Rodney Dixon after being apart for 9 years and in that 9 years he had 2 wonderful kids Ziquala and Demontrea. I had 2 wonderful kids of my own Malikiah and Kristiahna, so we have four kids all together. My fiance is working with my father at Edmondson Trash Service, he has been there for a year now.
Afton: Do you have any new pets?
Brittany: We have 2 pitbulls, their names are Poseidon and Athena, and a cat named Apollo.
Afton: Do you have any mentors outside of the self storage industry? Tell us about them.
Brittany: Yes I have a mentor outside of the company her name is Linda. She was my boss when I worked for E-Z Mart. She has always been there for me through everything.
Afton: If you didn't have to sleep, what would you do with the extra time?
Brittany: If I never had to sleep I would use all that extra time to make sure my house stayed clean because it is so hard with 4 kids in the house.
Afton: Would you like to give anyone a shoutout?
Brittany: I would like to give a shout out to Ann Westerman, my District Manager. She is a wonderful boss. I also look up to her for any advice on everything.